Below is a segment from the show above. It was filmed partly at I.V. Lab where we invented a Dewar that keeps vaccines cold for 50 days without electricity. That's weeks longer than current devices. At 2:22 Bill Gates removes the vaccines from the commercial version. In the background is the prototype my co-workers and I helped to design and build. I appear briefly at 3:54.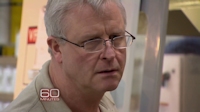 --------------------------------------------------
Nathan Myhrvold on The Colbert Report with his Modernist Cuisine books
At IV Labs we had an experimental kitchen for Nathan.
Nathan hired a full staff of cooks, photographers, etc.
After years they published Modernist Cuisine.
Along with many others, I was credited as an author.
Mostly, I mostly cut stuff in half for Nathan and his staff.
That includes the Dutch oven shown in this episode.
As usual with Colbert, it's pretty entertaining to watch.
--------------------------------------------------
Websites
Common Dreams
Huffington Post
Talking Points Memo
Raw Story
Democracy Now
The Nation Magazine
Media Matters
Skeptical Inquirer
Skeptic Magazine
Voting Resources
32nd District Democrats
- My district
46th District Democrats
- My previous district
The Stranger
Find Your Legislative District Here
Know the opposition:
Right wing organizations
Radio - News, Arts and Politics
KUOW - Seattle - 94.9 FM
Democracy Now - 91.3 FM
Swing and other Dancing

The Century Ballroom
Pictures
Myself
My musical instruments
Parts I've made as a machinist
Mom at Kungsholm Puppet Opera ~1943
Just her puppeteering photo
Freethinking Links

The Secular Web
The Amazing Randi!
Skeptical Inquirer Magazine
Healthcare Reform

Physicians For Single Payer
My 2001 Single Payer Editorial - also below

My Letters to the Editor and one editorial
P.I. - Single Payer Editorial
- Nov. 2001
P.I. - Supportive response to above
- Nov. 2001
Homepages
Friends and relatives
--------------------------------------------------
--------------------------------------------------
Free Hit Count